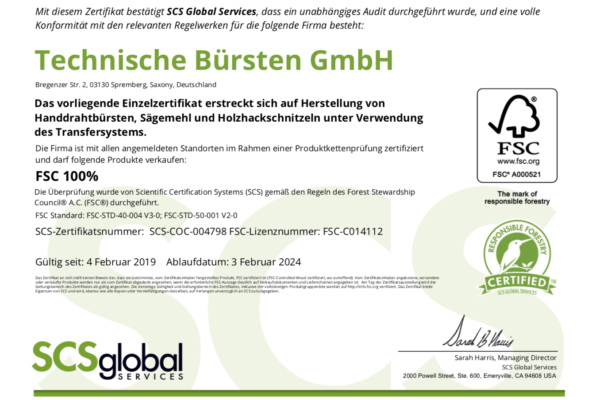 Technische Bürsten GmbH has always stood for a future-oriented company with Spremberg roots. That is why the sustainability of our products, as well as our company, is very important to us. That is why we have faced a thorough review by the
Forest Stewardship Council®️. This organization makes a significant contribution to the preservation of the trees of our area. In the course of this review, Technical Brushing GmbH once again received an FSC® certificate in 2019. This certificate is proof of the sustainability and environmental awareness of our company. We would like to thank you very much for the granting of this certificate to the FSC and look to a bright future!
More information about us and our products can be found Here .
For all interested parties:
SCS-COC-004798 – Lizenznummer FSC-C014112
All products with FSC® certified wood can be offered on request. Our standard offers relate to non-FSC® certified products. Feel free to ask us at any time or write us a message!